What Are the Different Types of Adhesive Release Liners?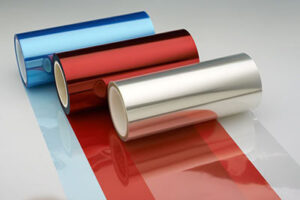 The release force is uniform and stable, non-antistatic/single (double) antistatic, and has various thicknesses and colors. It is mainly used in self-adhesive tape, double-sided tape industry, converting, die-cutting and other industries.
Non-silicone Release Liner
The release force of non-silicone release film is relatively heavy, because it uses non-silicone series release agent, so it can play its function in some products that cannot contain silicone. The non-silicone release film has the characteristics of uniform and stable release force, uniform thickness, strong temperature resistance and weather resistance, good tensile strength, and good thermal stability.
The main uses of non-silicone release film are hot melt adhesive, HC transfer printing, micro-adhesive and so on. Because of its heavy peeling force, it can play a good role in preventing the release film from moving or falling off when processing very small parts.
Fluorosilicone Release Liner
The surface of the fluorosilicone release film is coated with fluorinated silicone, which has the characteristics of high temperature resistance. For silicone tapes, it has excellent peeling properties. Fluorosilicone release film is mainly used in high temperature tape, gold finger composite die-cutting process.
Related Products: Fluorosilicone Release Liner
Anti Static Release Liner
Due to the friction between the film and the film will generate static electricity, the anti-static release film is to add an anti-static formula on the release film, thereby conducting the static electricity to prevent electrostatic damage (ESD) electronic materials.
Not Sure Which is the Right Solutions?