Light Shielding Tape-Matte Black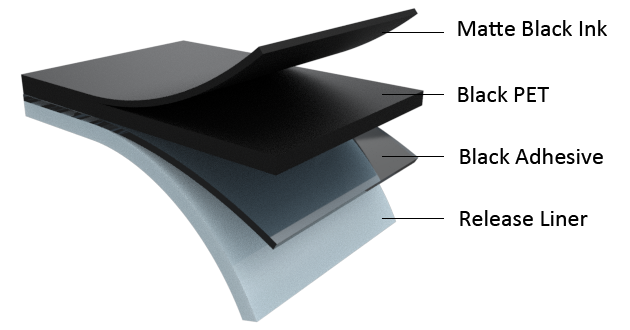 If you're looking for a versatile and effective light blocking tape, look no further than our thin matte black tape. This matte tape is perfect for mobile phone or LED panel curves and edges, as it will not warp or rebound. The black PET coating and black glue ensure that no light can be seen from any angle, making it perfect for a variety of applications.
The gloss of the matte black surface can be ≦0.5.
Excellent light blocking performance (optical density≧4).
Excellent anti-rebound ability.
Light shielding in mobile phone or tablet LED panel.
LCD screen frame light shielding.
LCD or LED backlight module fixed.
Fixed LED light source and display panel.
6430BZ

6450BZ

Light Blocking / Anti-Rebound

Light Blocking

Tape Thickness (mil/mm)

1.181/0.030

1.968/0.050

Base Material

Black PET

Black PET

Adhesive Type

Black Modified Acrylic

Black Modified Acrylic

Adhesion (g/25mm)

700

1300

Initial Tack (#)

0-3#

4-7#

Gloss

2±1

2±1

L

22.5±2.5

22.5±2.5

a

-1~1

-1~1

b

-2~0

-2~0

Optical Density (OD)

≥4

≥4

Surface Resistance (Ω)

108~1010
108~1010
Not Sure Which is the Right Solutions?