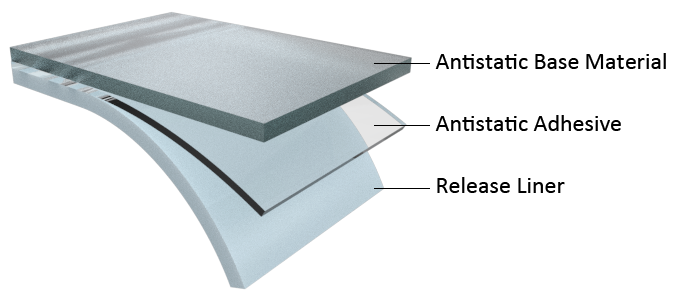 Anti-static tape is divided into single-sided (adhesive side) anti-static and double-sided (adhesive side and reverse side) anti-static protective film.
Single-sided anti-static: Add an anti-static agent to the glue and apply the glue to make it have an anti-static effect.
There are two ways of double-sided anti-static: one is to apply an anti-static coating on the PET backing, and the other is to add an anti-static agent during the production of PET.
The anti-static value is stable.
It uses a plastic core to eliminate dirt contamination in the clean work area.
IC, passive component packaging and carrying.
LCD, touch screen, OLED panel process load and panel protection.
Electronic packaging carrier tape, drug packaging, and electronic parts packaging.
6135H-AS

6250H-AS

Remark

Tape Thickness(mil/mm)

1.370/0.035

1.960/0.050

-

Backing

PET

Anti-Static PET

Select Anti-Static PET
or Anti-Static Adhesive

Adhesive Type

Anti-Static Acrylic

Anti-Static Acrylic

Adhesion(g/25mm)

1100

1200

-

Surface Resistance(Ω)

107~1011
107~1011

-
Not Sure Which is the Right Solutions?